Rick Rice Park was the first major recreational amenity developed by Interstate MUD, representing years of local efforts to provide west Houston residents with exceptional parks and green spaces. The park's name pays homage to Rick Rice, a Houston native who devoted decades to improving west Houston's parkland and outdoor environments.
The park was created by transforming a storm water detention area next to Mason Creek into a multipurpose recreational environment. Users can enjoy amenities that include:
A mile-long walking trail with educational signage that surrounds a central lake and fountain
An iconic pedestrian bridge that connects the park to a 20-mile trail system running from I-10 to Beltway 8. This system features several plazas and overlooks, seating and attractive landscaping, and there are no street crossings along its entire length.
Environmental graphics, including limestone and bronze entry signage, trail markers, signs identifying tree species, and bird-watching signage describing local avian species. Artwork installed along the trail and visible from the overlooks includes large inspirational words and uplifting quotes.
The park is open from 6:00 am to 9:00 pm daily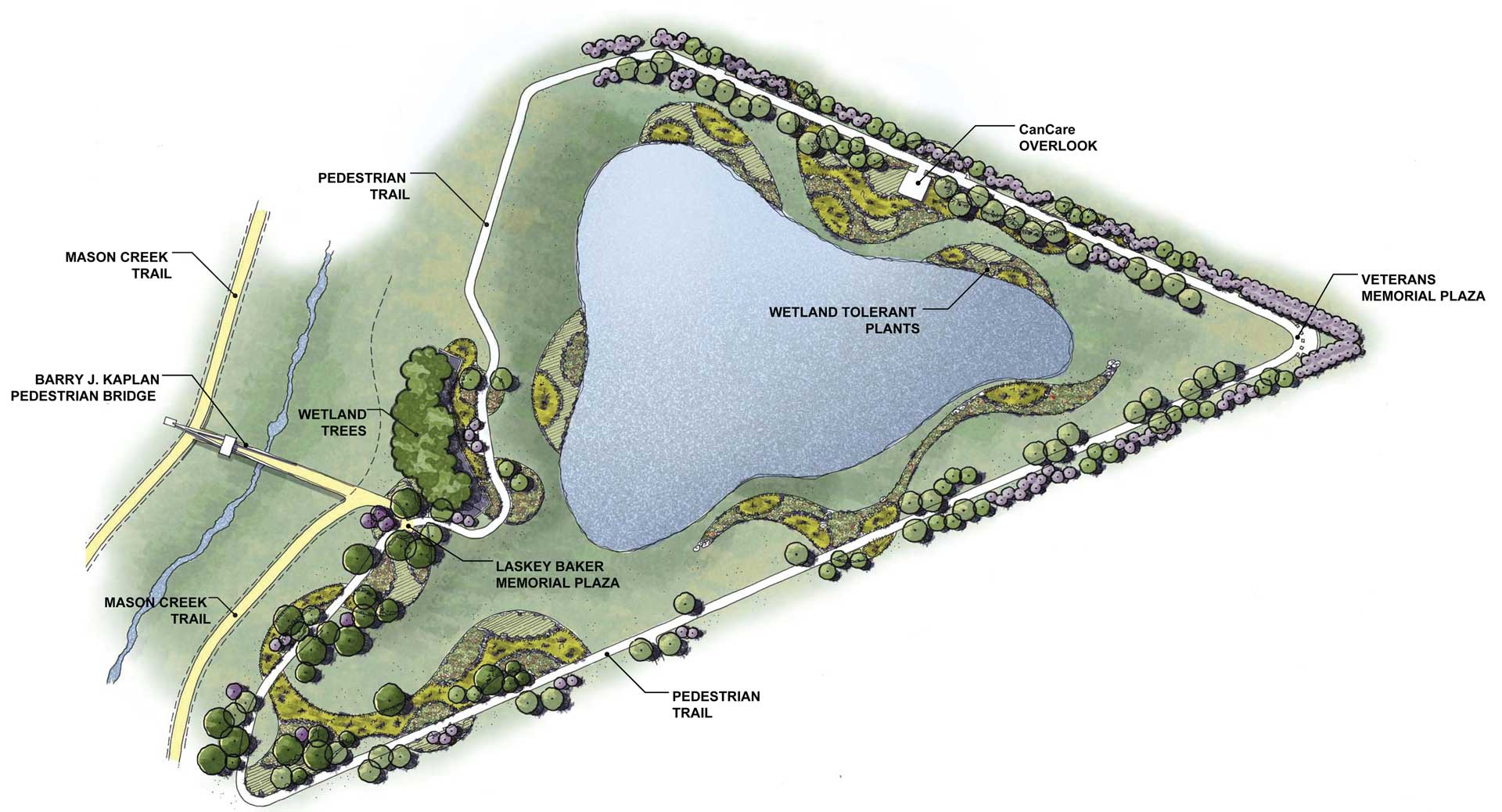 Laskey Baker Memorial Plaza
This facility honors Laskey Baker, a former Interstate MUD board member who played an integral role in establishing and realizing the district's vision. The plaza provides seating and scenic views, and serves as a key intersection point for trails along the Mason Creek trails system and the Barry Kaplan Bridge.
A prominent highlight along the trail is the Veterans Memorial Plaza, which honors the five branches of the United States military and includes their respective service flags alongside the American and Texas flags. The plaza was developed through collaboration with regional and community veterans of foreign wars; during a special ceremony, a local order of Purple Heart veterans was presented with flagpole keys so they may use the space for future ceremonies. Along with providing a place for trail users to stop and reflect, it is a great space to celebrate important events like Memorial Day, Veterans Day and similar community events.
CanCare is a network of trained volunteers, including cancer survivors, family members and medical professionals, who provide emotional support to others facing cancer.
The CanCare Overlook provides panoramic park views from an elevated, covered outdoor space. With its limestone blocks, benches and wood decking, the overlook provides exceptional views of the park and the large inspirational letterforms on the landscape. These grand, colorful aluminum letters are elegant, durable and carefully placed to spell out the words hope, love and dream; the individual letters also include inspirational quotes relating to CanCare's mission.
"My wife and I are residents of Nottingham Country and we utilize the Rick Rice Park on a daily basis.

We have lived from Boston, MA to Richmond, VA to Oklahoma City, OK to Cincinnati, OH and find this park and the adjoining hiking trail to one of the finest municipal parks we have come across. It's well designed and maintained from I-10 to trails end south of Fry Road.

The plant identification plaques are outstanding. The Veterans Memorial, CanCare Overlook and The Barry J. Kaplan Pedestrian Bridge are spectacular. We very much enjoy the abundant wildlife including the resident alligator."