Rick Rice Park before it was developed: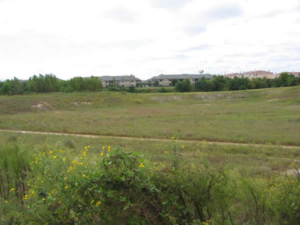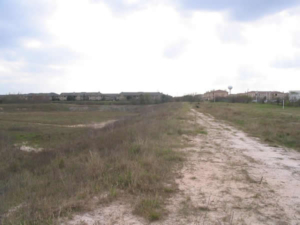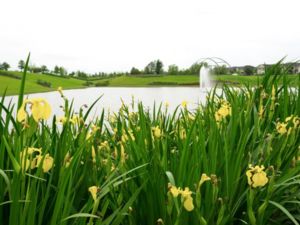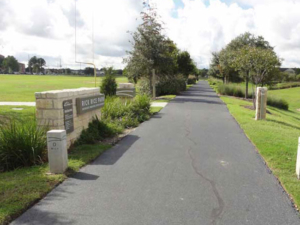 Rick Rice Park, which opened in June of 2009, was developed by Interstate Municipal Utility District (MUD). The MUD transformed a storm water detention area next to Mason Creek into a multipurpose recreational park. The park's name pays homage to Rick Rice, a Houston native who devoted decades to improving west Houston's parkland and outdoor environments.
Visitors can enjoy amenities that include:
A half mile walking trail that surrounds a central lake and fountain.
An iconic pedestrian bridge that connects the park to the Mason Creek Hike & Bike Trail. The trail features several plazas and overlooks, as well as seating and attractive landscaping.
Inspirational artwork that is installed along the walking trail and within the CanCare Overlook.
Educational signage about the plants, trees and wildlife that can be found at the park.
Rick Rice Park does not offer park reservations at this time and is available to the public on a first-come, first-served basis.
In December 2021, Interstate MUD purchased the 4.2 acre field behind CrossPoint Community Church. The large area will continue to be an open space for sporting events and other gatherings. We are planning new additions to Rick Rice Park, and you can take a look at our Conceptual Master Plan below.
(Please click image to enlarge)
A prominent highlight along the trail is the Veterans Memorial Plaza, which honors both the five branches of the United States military and the men and women who serve our country. It displays the flag and motto of each branch along with the American and Texas flags. During its dedication, a local order of Purple Heart veterans was presented with flagpole keys so they may use the space for their ceremonies. It provides a place for trail users to stop and reflect and to acknowledge Memorial Day and Veterans Day.
CanCare is a network of trained volunteers, including cancer survivors, their family members and medical professionals, that provides emotional support to others facing cancer. The CanCare Overlook provides panoramic park views from an elevated, covered outdoor space. With its limestone blocks, benches and wood decking, the overlook provides exceptional views of the park and the large inspirational letterforms on the landscape. These grand, colorful letters are elegant, durable and carefully placed to spell out the words "hope," "love" and "dream."
Francesca's Garden is at the south end of the park, behind the Mann Eye Institute. It is truly a gem of a spot, from the cool landscaping stones to the grassy area to the large colorful planters that feature gorgeous flower arrangements year-round. People love to attend boot camp, Zumba or yoga in the garden, and the pavilion is perfect for small gatherings. There are no reservations needed for the pavilion, and it is used on a first-come, first-served basis.
Laskey Baker Memorial Plaza
This area of the park honors Laskey Baker, a former Interstate MUD board member. The plaza provides seating and scenic views, and serves as a key intersection point for Barry Kaplan Bridge and the Mason Creek Hike & Bike Trail.
Mason Creek Hike & Bike Trail
The Mason Creek Hike & Bike Trail starts where Mason Creek Drive hits the feeder road on I-10 (near Rudy's Bar-B-Q) and runs southward along Mason Creek. It ends just after Pattison Elementary School. The trail was established in 2011 as a joint project between the Mason Creek Municipal Utility District and the parks department of Harris County Precinct 3. Interstate MUD worked with the MC MUD and Precinct 3 on the development of underpasses for the trail. Plans are under way for expanding the trail westward, past Mason Road, and also for connecting it to the George Bush trail system to the east.
A visitor wrote to us and said, "My wife and I are residents of Nottingham Country and we utilize Rick Rice Park on a daily basis. We have lived in many large U.S. cities, and find this park with its adjoining hiking trail to be one of the finest municipal parks we have come across. It's well designed and maintained from I-10 to the Mason Creek Hike & Bike Trail. The plant identification plaques are outstanding. The Veterans Memorial, CanCare Overlook and the Barry J. Kaplan Pedestrian Bridge are spectacular. We very much enjoy the abundant wildlife too."
History of Rick Rice Park
An early history of the land
For thousands of years, the Katy prairie was home to Native Americans and longhorns, deer, wolves, ducks and geese, and in the winter, visiting buffalo. If you leave the park and go west down Kingsland Boulevard to the end of the road, you will cross a creek. This creek, historians say, has been around for 18,000 years. It looks very different today, and depending on the rainfall sometimes even runs dry, but it remains a link to the people of the past.
At some point, either Native Americans or early Spanish explorers planted tall cane in the creek. When the settlers began to arrive in the 1800s, they thought the tall cane looked like an island in a prairie ocean. They called the place Cane Island.
It was at the start of the 20th century that everything began to change. It began with the Missouri-Kansas-Texas (MKT) railroad that laid tracks through Cane Island. Trains brought more settlers, and the town of Katy was born, probably named after the KT in the railroad. At the east end of Kingsland Boulevard, the town of Barker was named after Ed Barker, the contractor who laid down the railroad. Land agents sold more settlers on the promise of fertile land.
The climate was unfamiliar to the new arrivals, and they tried many crops to figure out what to grow. When they discovered that rice would do well, there was no looking back. At one point, 60,000 acres of land in Katy were covered with rice fields. Every kid growing up in Katy in the early part of the 20th century has memories of cooling off with a swim in one of the rice wells.
Since this is Texas, we must mention the cowboys too. The prairie grass was great for cows, and the area's most famous cattle rancher was Emil Henry Marks, whose grandfather arrived in 1843 on a ship from Germany. Emil's parents died when he was 10 years old, and he learned ranching from an uncle. In 1917, he moved his LH7 ranch to Barker.
At its peak in the 1930s, the LH7 ranch covered 33,000 acres with close to 7,000 head of cattle. Dropping in to the Barker Post Office to pick up his mail, Marks would tell ranch stories and sing cowboy poetry. He entertained his neighbors with riding and roping contests, starting the tradition that is today the Houston Rodeo. He bred Texas longhorns just for the love of the breed, and actually ended up saving them from going extinct.
Along with the farmers and the cowboys in Katy's history are the oilmen. In 1934, a gas field was discovered in Katy, and by World War II the Katy Gas Plant was indispensable to a war effort. After flooding in downtown Houston in 1935, the Army Corps of Engineers acquired a vast amount of property, including 450 acres of the LH7 ranch. The Corps used the land to create the Addicks and Barker flood reservoirs to mitigate flooding in Houston.

The Story of Rick Rice Park
The genesis of the park can be traced to September 10, 1974, when Interstate MUD was created to provide water, wastewater, and drainage services within its boundaries. Over the next few years, Homart Development Company constructed the infrastructure facilities for these services as it developed the land.
In 2003 and 2004 the Texas Legislature passed legislation, ratified by Texas voters, that gave MUDs the ability to finance, construct and maintain parks and recreational amenities. "As soon as the legal authority was granted, the Interstate directors began the preliminary work," said Barry J. Kaplan, who served on the board of directors for 40 years before retiring in 2022. "We had the detention basin and we wanted to turn that into an amenity pond."
The first step was to hire a landscape architecture company to design the park. The board chose the landscaping design firm TBG Partners in 2005. In 2006, a bond election was held, and voters approved $10 million in bonds to be used for park and recreational facilities. Kaplan said the board set out to create a park that "was unlike any other public park in design and especially maintenance." So far, about $5 million has been expended on park construction.
The detention area was developed into an amenity pond with a walking trail, park benches and water fountains surrounding it. On the northeast corner of the trail, a terminal vista was created with the Veterans Memorial Plaza overlooking the pond and the park. Flanking the trail, intensive landscaping was installed to provide shade and beauty along with environmental art and educational signage. In 2012, the pedestrian bridge connecting the park to the Mason Creek Hike & Bike Trail was dedicated.
Shortly thereafter, Cory Hawryluk, who was a director at the time, put the board in touch with CanCare. The result is the CanCare Overlook, which was built in 2014.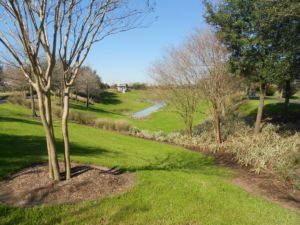 The MUD board was, and is, actively involved in the park, its creation and maintenance. "Everyone on this board is very passionate about green spaces," Kaplan said. "We think it's vital to provide a place where people in this community can get outside and connect with nature, especially during these stressful times."
It was former director Rick Rice who said that it was vital that the park be physically connected to the surrounding area. He also knew that cooperation with other public entities would boost development of the park. Under his guidance, Interstate MUD partnered with Commissioner Steve Radack of Harris County Precinct 3 to build sidewalks on the north and south sides of Kingsland. In addition to increasing access to the park, the sidewalks are widely used by area residents, including Taylor High School students.
Interstate MUD and the county also partnered with the Mason Creek Utility District to build underpasses and the trail under Kingsland and Westgreen, which connect the park to the Mason Creek Hike & Bike Trail. The trail terminates at I-10 to the north and George Bush Park to the south.
In 2015, Francesca's Garden opened at the south end of the park adjacent to Kingsland Blvd. It is a beautifully landscaped area with a covered pavilion and picnic tables. It also has a small hill that children love to roll down. "People go there to relax, meet or attend boot camp, yoga class or concerts at the pavilion," Kaplan said.
The park is also staffed with a professional security team of off-duty Houston police officers, many who live in the area. Additionally, cameras have been installed at strategic locations around the park to ensure public safety. There is a security building on site for the officers.
Maintenance of the park is provided by Terry's Landscaping. The landscaping crew is there weekly if not more often because the board wants the park maintained like a private residence, not a public park. The flags are changed on a quarterly basis and any graffiti is removed within 24 hours.
We name streets, parks, bridges and other civic infrastructure after people who have contributed to our community. But too often we do not know who they were. Maybe it is because they lived years ago and their achievements have been shadowed by the mists of time.
Maybe they worked in the background, avoiding the limelight and civic recognition, and therefore their achievements go unnoticed. Rick Rice was this type of person. A native Texan who moved here when he was 7, Rice was both a Cougar and an Aggie. He was also a man who wanted to make his hometown a better place. And he did.
A member of Interstate MUD board for many years before he accepted a role on the Houston City Planning Commission, Rice earned an M.A. in Urban and Regional Planning from Texas A&M. He was also a developer who helped build Houston's west side and was known for the quality of his projects and his dedication to excellence.
When the board began working on the park that would eventually bear his name, Rice shared his expertise and knowledge. It was invaluable. He knew that cooperation with other public entities could expand the reach and impact of the park. He also understood that the construction of sidewalks leading to the park and a county trail on the west side of Mason Creek would allow more pedestrians to safely reach the park without having to get into a car.
Following Rice's guidance, underpasses were built under Kingsland and Westgreen, in cooperation with Harris County Precinct 3 Commissioner Steve Radack and the Mason Creek MUD. The result is the county trail on the west side of the park that runs south alongside Mason Creek. The construction of that trail brought additional people to Rick Rice Park. The trail now runs from Rick Rice Park to George Bush Park. As part of the partnership with the county, Interstate MUD maintains the trail within its boundaries.
Working with the county, Interstate MUD also built sidewalks on the north and south sides of Kingsland. Now students attending Taylor High School and commuters using the Metro Park and Ride lot no longer have to walk in the street or deal with muddy dirt paths. The number of park users jumped with the construction of the sidewalks and trail.
Rice emphasized the need to maintain the park and trails so people would always feel safe. He said that no matter how beautifully a park was designed, it would only be a success if it was full of people. Rice knew that a safe park was a well-maintained park. The detailed and rigorous maintenance program for Rick Rice Park is the result of his vision.
In recognition of Rice's hard work and lifelong commitment to parks and the beautification of Houston, on April 11, 2006, Interstate MUD board unanimously voted to name the new park Rick Rice Park.
Not only was Rice instrumental in the creation of the park, he was a community leader. An Eagle Scout as a youth, he guided a number of young men to their Eagle Scout awards as an assistant scoutmaster. He served on the Houston Planning Commission, as well as on the Harris County Flood Control Task Force and the Houston Real Estate Council. He was also the former chair of the West Houston Association and the Greater Houston Builders Association Developers Council.
Rice was more than a member of civic groups— he was a leader who strongly believed in Houston, its future and its people. He also believed that because Houston was not blessed with natural geographical features, it was imperative for its residents to create them — to maximize what we had and use them to make our community a better place to live and play.
Rick Rice passed away on November 30, 2016. May his memory be a blessing and may Rick Rice Park be his legacy.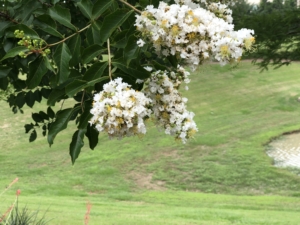 People have asked us, "Why did you build a pedestrian park in the Katy, Texas area?" We were told, "Nobody will want to go there." They were wrong. Our off-duty HPD officers count park visitors. We know that on average, about 4,200 people visit Rick Rice Park and Francesca's Garden each month.
The reason we built it is because parks matter. While some well-meaning park advocates try to quantify the fiscal benefits, parks matter for non-quantifiable reasons. They provide a safe place for children to play, for adults to sit, exercise or just talk. They provide a place for community activities where people come together. They provide a place for young and old who want to enjoy the beauty of nature. Parks are flexible enough to fit the needs of everyone.
Parks bring people together as a community. Go to Eleanor Tinsley Park on July 4th. Walk through Hermann Park on a weekend. Parks encourage people mixing. Parks soothe the uneasy and calm the agitated. Parks are a refuge from daily life. In congested cities like New York, parks are the "green lungs" of a city, refreshing both visitors and non-visitors. Parks matter for so many different reasons. That is why we built a pedestrian park in the Katy area.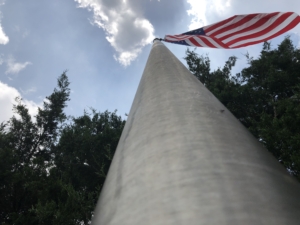 As a child growing up in New York City, my mother took me as a young boy to Forest Park in Queens and I never forgot the freedom to jump, run and generally make a nuisance of myself. When we moved to another part of Queens, Alley Pond Park and Crocheron Park became second homes. Going to college in Buffalo, New York, home to a comprehensive but decaying Olmsted-designed park system, I saw the faded glories of a city in its decline.
Many years ago when I came to Houston, the first thing that I did was drive down Memorial Drive to find Memorial Park. Given the fact that I only had one park model in my head, I was looking for an urban park like those designed by Frederick Law Olmsted. When I wound up downtown, I realized that I had gone past the park. I had looked for a different kind of park and missed what was right in front of me. Years later as a runner, I realized that parks come in all shapes and sizes. Memorial Park was just different from those in my past.
On behalf of the Board of Directors of Interstate MUD, I am pleased that we have had the opportunity to provide the growing Katy area with Rick Rice Park.
Please join us at Rick Rice Park whether with family or friends or just by yourself. It is there for you because parks really do matter.

Barry Kaplan served on the Board of Directors for 40 years.
Interstate MUD
2016 Project Award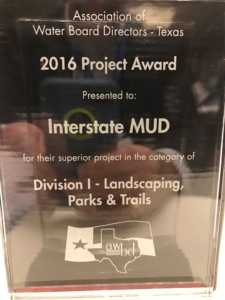 Landscaping, Parks & Trails
Association of Water Board Directors
Interstate MUD was celebrated for improving and enhancing the lives of its constituents and using measurable objectives to reach its goals for the continued development of Rick Rice Park.
2016 Most Outstanding Project in Katy Area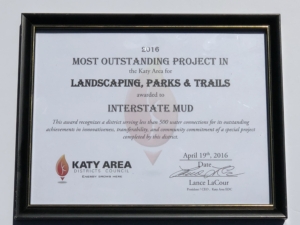 Landscaping, Parks & Trails
Katy Area Economic Development Council
Interstate MUD was recognized for outstanding achievement in innovativeness, transferability and community commitment concerning its stewardship of Rick Rice Park.
2015 Blue Legacy Award

Texas Water Development Board
Interstate MUD was honored for its responsible management of water resources and its effective water stewardship overall.
2012 H-GAC Award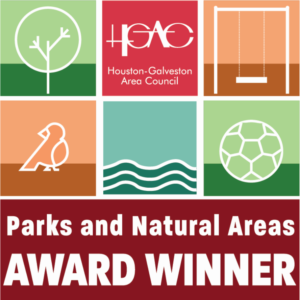 Parks & Natural Areas – Honorable Mention
Houston-Galveston Area Council
Interstate MUD was commended by H-GAC's Natural Resources Advisory Committee for its innovative approaches in the creation and development of Rick Rice Park.